About the Show
Price: Tables for 2, 4 or 6. $25 per seat Thursday, $30 per seat weekend
When: Thursday 7 / 9:30, Friday 7 / 9:30, Saturday 7 / 9:30
Spotlight: COVID protocols will be in effect for these shows. Tom first came to the DC Improv as a feature act, and we were blown away by his energy, writing and personal story -- he's the son of a deadbeat Indian dad and a hardworking, Red Lobster managing mom. You've heard him hosting shows on SiriusXM, you've seen him on "Conan" and Comedy Central. Now he's back to headline our club for the first time.
Featuring: Rahmein Mostafavi and Gigi Modrich
Comedian Interviews
We talked to Tom Thakkar on May 3, 2021. Chatting about his name change, what it's like to meet your comedy heroes, and "Stand By Your Band" -- his podcast where guests have to defend their allegedly terrible taste in music.
About the Comics
Tom Thakkar (official website) is a comedian living in Brooklyn by way of Indiana ... or so he says. He claims that he grew up the son of a deadbeat Indian dad and a Red Lobster-managing mom. Do we believe him...? Sure, Tom talked about these things on "Conan," but he also called himself "HotGuy03" in a chatroom once, so who knows. His alibis include co-hosting Comedy Central's "You Up" with Nikki Glaser, creating the podcast "Stand By Your Band," and performing at Just for Laughs, Clusterfest, and Moontower. We've been watching Tom closely … when he was a finalist for NBC's "Stand Up For Diversity," when he appeared on Comedy Central's "This Week at the Comedy Cellar" … and we want to know, if he's so successful, why is he arguing with his landlord about whether the rodent in his closet is a rat or a mouse?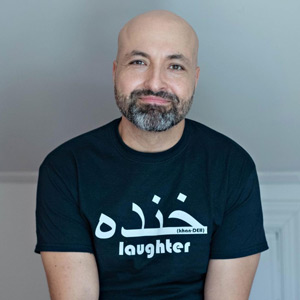 Rahmein Mostafavi (official website) charms crowds with comic timing and charisma developed during a decade of live performance. He addresses social and political topics with a combination of satirical and observational comedy, leaving audiences with a greater sense of purpose, sex appeal and the occasional leg cramp.
Rahmein entered the stand-up world after working as a longtime cast member of "Shear Madness," the acclaimed Kennedy Center improv/comedy whodunit. His natural joke writing ability, combined with his acting chops, have won him rave reviews in both the Washington area and around the country. He also produces events under the "Cool Cow Comedy" banner, bringing live comedy to venues in Maryland and Virginia.
Rahmein has shared the stage with some of the best comics in the nation, including Dave Attell, Jake Johannsen, Artie Lange, Bert Kreischer, Rich Vos, Jon Lovitz, Tim Meadows, Joe Matarese, Bob Marley, The Sklar Brothers, Jen Kirkman, Red Grant, Godfrey, Joe Torry, Kyle Kinane, Finesse Mitchell, and Maz Jobrani. He has been featured at the Laugh Your Asheville Off comedy festival, The Devil Cup, Red Clay, The Cleveland Comedy Festival, and the Cape May Comedy Festival. Rahmein has been seen on FOX, heard regularly on Sirius XM, was featured in "The Truth About Money" on PBS, and was honored to be a speaker at the world famous TEDx Talks.
Born in Iran, Rahmein moved to the United States with his family at a very young age. He currently resides in Northern Virginia.
Gigi Modrich is a Washington, DC based comic originally from New Mexico. She was a part of the First Nations Comedy Experience now available on Amazon Prime, and has performed all across the country. She's sarcastically optimistic and tells jokes that are thoughtful enough to provoke thought, but won't prompt a hate crime.