At the request of the artist, patrons for these shows must present proof of full vaccination against COVID-19 to be admitted to the venue.
About the Show
Price: $35 general admission
When: Friday 7 and 9:30, Saturday 6, 8:15 and 10:30, Sunday 6
Spotlight: Thanksgiving is a time when people head home to see their families ... and for Donnell, the DMV is home. He went to TC Williams in Alexandria, and he started his showbiz career by heckling performers at DC comedy clubs before taking the stage himself. His success as a stand-up landed him a spot on "Chappelle's Show," securing him a spot in pop culture history, and he became a favorite on some huge East Coast radio shows (including the WPGC morning show). Bring your family out to laugh with one of our favorites.
Featuring: TBA
About the Comics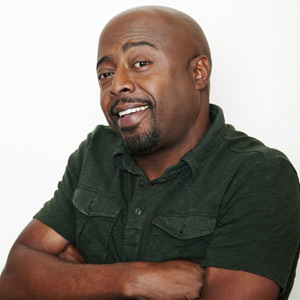 Donnell Rawlings is touring the world performing to sold out audiences with his new show, "2Soon with Donnell Rawlings." He can currently be seen on season 2 of the hit Netflix series "The Degenerates" and on his brand new podcast, "The Donnell Rawlings Show." Donnell also just shot a role in "The Jay and Silent Bob Reboot" film and is starring opposite Kevin Smith in "Hollyweed." He has appeared on "The New Negroes" for Comedy Central, on Netlfix in "Historical Roasts with Jeff Ross" and is recurring on the new Emmy Nominated series "It's Bruno." Rawlings was on "The Joe Rogan Experience Podcast" and was featured on TBS's "The Last OG" with Tracy Morgan. Donnell hosted his own show as Judge Rawlings on MTV2's "Guy Court" and was also was a cast member on MTV2's "Guy Code." Donnell showed his range and opened up about his life as a new father in the first season of TLC's hit show "Project Dad." Donnell continues traveling the globe performing alongside Dave Chappelle where he broke out as Ashy Larry on "Chappelle's Show" for Comedy Central.