About the Show
Price: $17
When: Sunday 7:00
Spotlight: Bad Medicine is back! The Bad Medicine Show is high energy sketch comedy with a bent toward the dark, absurd reality of life. Each show brings you new hilarious characters, videos, music, and of course sketches about situations you hope you'll never be in. They love to give folks an evening of laughter, but deep down, Bad Medicine is simply a group of friends trying hard to forget the political town they live in.
Featuring: Bad Medicine
Interviews
Before their October 2021 show, Andy Weld and Leila Drici called into talk about the troupe.
About the Comics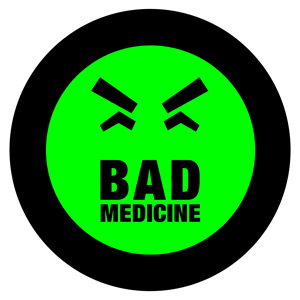 Inspired by Saturday Night Live, Bad Medicine (official website) is DC's premier sketch comedy troupe. Trained by the Upright Citizens Brigade and Second City, their comedy focuses on the absurdity of life. For more than half a decade, Bad Medicine has performed at North American festivals like Montreal Sketchfest, NYC Sketchfest, Chicago Sketchfest, and Sketchfest Seattle. They also produce award-winning short comedy films, and a podcast about the craft of sketch comedy called Sketch Nerds.