About the Class
Price: $150
When: Tuesdays, June 15-29, 7 p.m. - 8:30 p.m. (Class meeting June 15 and 29. One-on-one coaching June 22.)
Graduation Show: July 1 at 7:30 p.m. (online)
Prerequisite: "Five Minutes to Funny" or several months of open mic / performance experience
Please Note: All classes are 18 and over. Once payment is made, there are no refunds, exchanges or cancellations.
Spotlight: Welcome to the world of virtual standup comedy! Via video conference meetings with instructor Rahmein Mostafavi, you'll take your comedy to the next level. Level 2 Stand-Up is for grads of our Five Minutes to Funny class, or relatively new comics trying to strengthen their sets and break into the scene. Week one will be an all-hands meeting. Week two features a private 30-minute one-on-one coaching session with your instructor. (You'll be given a specific time slot). Week three all the students meet again to go over their material. In this three-week program we'll dig deeper into your 5-minute set; work on strategies to hone it; and create new material based off it. Classes will also focus on joke-writing techniques, how to get booked, and the unsung secret to comedy success: becoming a sought-after host.  
About the Instructor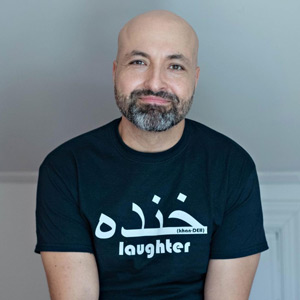 Rahmein Mostafavi (official website) charms crowds with comic timing and charisma developed during a decade of live performance. He addresses social and political topics with a combination of satirical and observational comedy, leaving audiences with a greater sense of purpose, sex appeal and the occasional leg cramp.
Rahmein entered the stand-up world after working as a longtime cast member of "Shear Madness," the acclaimed Kennedy Center improv/comedy whodunit. His natural joke writing ability, combined with his acting chops, have won him rave reviews in both the Washington area and around the country. He also produces events under the "Cool Cow Comedy" banner, bringing live comedy to venues in Maryland and Virginia.
Rahmein has shared the stage with some of the best comics in the nation, including Dave Attell, Jake Johannsen, Artie Lange, Bert Kreischer, Rich Vos, Jon Lovitz, Tim Meadows, Joe Matarese, Bob Marley, The Sklar Brothers, Jen Kirkman, Red Grant, Godfrey, Joe Torry, Kyle Kinane, Finesse Mitchell, and Maz Jobrani. He has been featured at the Laugh Your Asheville Off comedy festival, The Devil Cup, Red Clay, The Cleveland Comedy Festival, and the Cape May Comedy Festival. Rahmein has been seen on FOX, heard regularly on Sirius XM, was featured in "The Truth About Money" on PBS, and was honored to be a speaker at the world famous TEDx Talks.
Born in Iran, Rahmein moved to the United States with his family at a very young age. He currently resides in Northern Virginia.